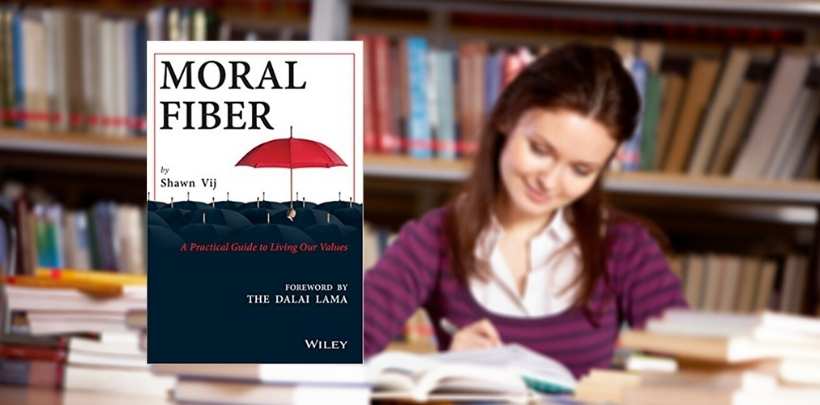 In Life, most of the times, we tend to make the atmosphere around us complicated. In other direct words, life is simple and we make it complicated. We have come to these types of arguments many times but their effect lasts for a few moments. Either we need a story of someone or our own experiences to guide us on the path of simplicity with values intact with it. I have recently read a book 'Moral Fiber' written Shawn Vij and I really found it interesting and helpful in all the fronts of our life. Though the author is a global business leader and he has covered majorly the functioning of corporates, there are significant details for the common readers as well. Motivation and inspiration can sustain in the long run only if we extract it these things from real-life experiences and the author has done very well on this front.
Moral Fiber is an ultimate guidebook that guides us on two fronts to make a successful career and at the same time remaining true to ourselves. In the very first chapter, Shawn has told a very good line that has been told by his boss 'It's business, nothing personal' and most of the people do the same in a corporate environment. The author has tried to point out that very fact when we come to this phase of our life. We have to decide between two things either save your job or stand up for the values you have stood before. Coming into the corporates does not mean that you can easily put everything in terms of ethics and policies at stake and embrace your progress in wealth-creation and other professionals domains. When we see these things in a practical way, it is really a tough task deciding between the two – business or personal well-being. However, the author has done his best to come out with decisive tools and techniques to overcome this hurdle and remaining true to your core values and at the same time making a good fortune out of your professional activities.
Shawn has used his lessons in Buddhism and his personal experiences to come up with his exclusive theories that explain life and its problems. He brings the concept of 4 Ds that create trouble at the workplace of most of us. He also brings the solutions that can help us curb the impact of these evil Ds. The major philosophy of the book is to create an environment where 'capitalism' and consciousness can go together. However, do keep in mind that the term 'capitalism' has been used in the book with wider ramifications that we can expect. He has talked in the book about the major problem which is most of the business organisations do have values but they are not living up to it. The book has tried to be the source of a solution for the working professionals and for the business organisation as well.
If we talk about the content and the language of the book then it is nice to read. It is written in simple English and in an eloquent way that will surely attract the readers. As this book is a guide and manual for a superior life, how might you balance yourself and your character, you will meet with many difficult questions and their answers by Shawn Vij, a person who has been admired as a global business leader. This book contains genuine realities which occur in a large number of the organizations existing today and yet, how you have to endure and adhere to your own ethical strands. It will assist you in building yourself an expert in your profession, to develop alongside the rules given in the book with the assistance of different strategies.
Shawn himself is inspired by Buddhist philosophy and Indian philosophy that helped him in his hard times. It is a perfect blend of motivation with the help of spiritualism and mediation.
Generally speaking, this book gives you different techniques to build a layer of moral fiber and become a superior individual in the professional as well as individual life. You can download the Kindle version of this book by clicking the link to Amazon India below:
Buy the book now – click here to buy
review by Nishant for BooksToRead
Moral Fiber by Shawn Vij: Book Review
Summary
Shawn Vij's attempt is to be admired and paid attention to.