Ghostbusters and Other Stories is a collection of ten short stories written by Debadatta Satpathy, an author from Odisha. All of these stories are simple yet entertaining as well as exhibiting emotions of various kinds and thus, keeping the readers absorbed till the very end. Becuase of the simple language used in the stories, the narrative is very much close to the day-to-day human life and readers can easily relate to the stories in the book.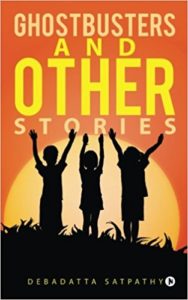 Beginning with the childish ghost adventures when a few children gather together to look for a ghost in Bhadrak, Odisha, the stories are varying in themes but seldom in length. Ghostbusters is the very first story and it surely gives the readers some moment of still-shock because of the events described and the scenes created. The author has let the story end in ambiguity because the characters in the story found some very unusual things which you must read.
Another story which takes us back to our childhood is the story of a boy who is not good at Sanskrit and yet he manages to outwit his rival, a girl who is very good at it! Hello, Sanskrit will surely let the readers get back to their school days temporarily. There are few serious stories as well in the collection Ghostbusters and Other Stories. The Stalin House is one of them – this story is somewhat describing an existential crisis and the dilemma of human life. Maybe inspired by the communist ideology, as the character in the story is, the author has tried to present flat truth to us.
These short stories which are there in the book are written with simple yet powerful narratives which communicate with the readers and deliver the intended messages very loud and clear. Where the author wants to be humorous, he is humorous. And where he wants to sound serious, he is successful in doing that as well.
Talking about the content, the stories are really short and the book Ghostbusters and Other Stories will surely prove to be a pleasant read for every reader. You can enjoy this book as a perfect one time read and it will not take longer than two days! You can get a copy of the book from Amazon and enjoy reading it right away! Buy the book from the link below:
Ghostbusters and Other Stories on Amazon
by Sanjay for BTR
Ghostbusters and Other Stories - Reviewed
Themes

Storytelling

Reading Pleasure
Summary
For all those loves of tell-me-a-tale, this is a perfect weekend read folks! Get your copy now and start reading!