Poetry as a form of art and poetry as a genre of literature might seem quite equal in nature but in my view, these two things are certainly different! Poetry as a form of art may not have certain parameters and dimensions which might limit it to a certain form. For example, if I wish, I can show my life as a poetry. However, on the other hand, poetry is a genre of literature has its limitations and frontiers. A person cannot writer absurdity and name it poetry. Yes, there are prose poems today and that is extreme that we could do. Some good works, which are in rare today, of course, let us enjoy the poetry in its best form! I am reviewing one such book today which is titled An Apology for Shakespeare. According to the poet, S A Joseph, he has written a defence of poetry in this modern age because he feels that poetry as a form of art is decaying every day. We might differ in our opinions but we all have our concerns for poetry and we cannot write off the burden at once.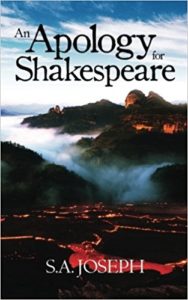 An Apology for Shakespeare can surely not be said just an avant-garde and sidelined. The poet S A Joseph has certainly done certain experiments and his diction might suggest the same. Nevertheless, his experiments in the poetry are all just to express the disgust that modern society has in its mind (in the abstract form).
"How many Gods are here,
Upon this earth?
Did anybody help me
In my greatest need?"
No poet could do it; no writer with a shred of poetry could have dared to do so. However, as we all know that the creative people are often free of any humane and limitations, S A Joseph has dared to take on what he wants. If you want to call it an experiment, do so. For the poet here, he believes in nothing else except the power of poetry.
A major theme in the book is the losing art of poetry. The poet mourns that. The poet also mourns how the humanity has submitted the will to love and all the materialistic and sensuous pleasures have made the human beings the mere slaves of Lucifer, the fallen Arch Angel!
The poetry of S A Joseph has been termed as bold and courageous by most of the book critics and readers. And it indeed shows the same colour when you go through An Apology for Shakespeare. For all those readers of poetry who want to see what is happening in this field in the modern age, please get a copy of this wonderful poetry collection and give it a read. Here is the Amazon link to the book:
An Apology for Shakespeare on Amazon
by Amit for BTR
An Apology for Shakespeare - Reviewed
Themes

Poetry

Reading Pleasure
Summary
You should surely give this book a read so that you understand what real poetry in this modern age means!