How would you react to a book which becomes 'usual' after some 30-40 pages? Your response, I suppose, will be 'who cares'! Come on; now think of a book which keeps your reading senses captured and does not unfold the 'secret' that it keeps until you reach towards the conclusion of it. Your reaction, I suppose, will be quite enthusiastic and would certainly a reader think – 'that was a damn good read'. At BooksToRead, we only bring those reads to you and also warn you about not reading the books that you shouldn't be reading. This time, I have come with a 'good read' type of novel – Rafflesia – The Banished Princess is the name of the book written by author Gautam Choudhury. This novel, by the title which seems near to some fancy fairy tale, should not be presupposed with any notion. Let's wait and see the story unfold first.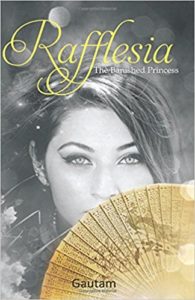 There are no fairies; there are no demons; there are no magic wands; there is nothing like Harry Potter nor anything like Alladin! The novel rather takes up the issue of a guy named Appu who wants to do something in his life and does all the necessary attempts to make his ambitions happening. However, fate has him and he falls flat – an unhappy marriage where his wife goes away just after two days of his marriage. A sense of unnecessary guilt takes him and he becomes an introvert. His friend Rahul, who is always there for him (and in return, Appu is also there for him always) tries all he could do to make Appu feel better. A journey from an uncomfortable and painful marriage to divorce is decorated very well by the different events which take place in between – telling Appu and the readers what life can be…
Yes, there is an allusion to the princess and prince story… it's all in a mail that Appu receives from someone in the Netherland. Rafflesia's story is there to guide Appu to his 'wanting' life and settle happily… realising that things fall in line when we push a little from our side…
The novel Rafflesia – The Banished Princess is rather lengthy and it goes on around 400 pages. People have become too fast these days and for a reader who wants to read something really good, this will not take more than 2-3 days to complete. I will suggest any reader who has let his reading sense burn with 'usual heat' that contemporary Indian fiction serves to read this good novel by Gautam. It will take you to the untrodden lengths of paths which are there in everyone's life in this or that form…
Yes, there are some fault lines in the novel. You can simply overlook those as the author is coming with his debut fiction piece. Let's read him first and then only judge… Happy Reading folks!
Review by – Anil
Rafflesia - The Banished Princess
Plot

Narrative

Readers' Satisfaction
Summary
Rafflesia – The Banished Princess is a new kind of experiment in Indian contemporary fiction writing. The author, irrespective of his debut credentials, has decided to come up with something new and genuine and honest! Let's give him a read.